"Frappé lifts moods, stimulates conversation, announces your connection to a lifestyle unique to Greece, and connects you to it when you're away. It is nothing less than a modern Greek elixir."

Vivian Constantinopoulos & Daniel Young,
authors of FRAPPE NATION







in the frappélog:
Your frappé photos wanted on flickr.com

Did Andy Warhol design the frappe nation t-shirts and art prints?
Thessaloniki's Achillion Café featured in new frappé blog.
Frappe Straws: Does color matter?
Did Nescafe invent the frappe?
How long is the frappe moment?


check out the frappé swicki at eurekster.com


Join the FRAPPE NATION
Some look at a glass of frappé and see only a sensationally frothy mixture of coffee, sugar, water, and ice. The citizens of Frappé Nation see a symbol of idyllic summers in Greece.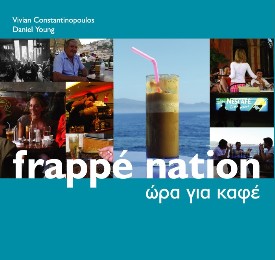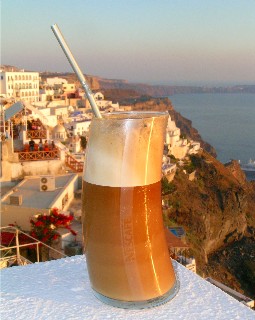 Frappé Nation: Ora Gia Kafe (Time for Coffee) is an illustrated travelogue of the Hellenic café landscape, starting in Athens and crisscrossing the cities and islands of Greece, from Corfu to Mykonos, Thessaloniki to Chania, Rhodes to Santorini. Yet it is much more than just a coffee-table book about coffee: Authors Vivian Constantinopoulos and Daniel Young investigate the bond between modern Greeks and their national drink. This special relationship is rooted in an ancestral thirst for public dialogue and interaction, hence the chapter devoted to "The Ancient Art of Greek Conversation." Other chapters indicate the scope of Vivian and Daniel's cultural exploration:
– The Frappe Moment
– The Modern Greek Elixir
– The Story of Greek Coffee and Coffee in Greece
– From Kafeneio to Cafe to Cafeteria
– The Invention of Nescafe Frappe
– The Science of Frappe Foam
– How to make a frappe
– The Frappe Diaspora
Published in 2006 by Potamos in a single, hardcover, 192-page, bilingual English-Greek edition with over 250 color photos.
List price: $42.95 (€32). Our price: $37.95 (about €28.50)
Read what the press say about Frappe Nation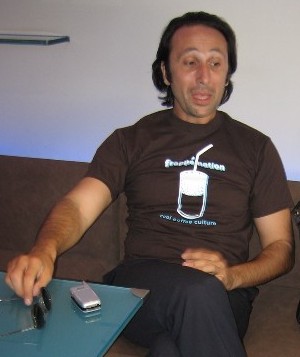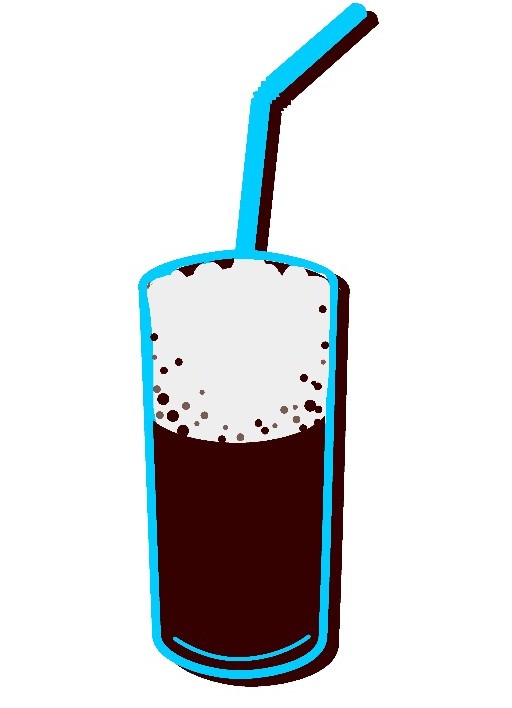 For frappé nation t-shirts, go to the online store.