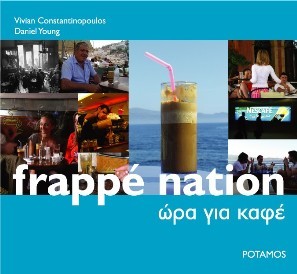 Frappé Nation is an illustrated travelogue of the Hellenic café landscape, beginning in Athens and crisscrossing the cities and islands of Greece, from Corfu to Rhodes, Thessaloniki to Chania.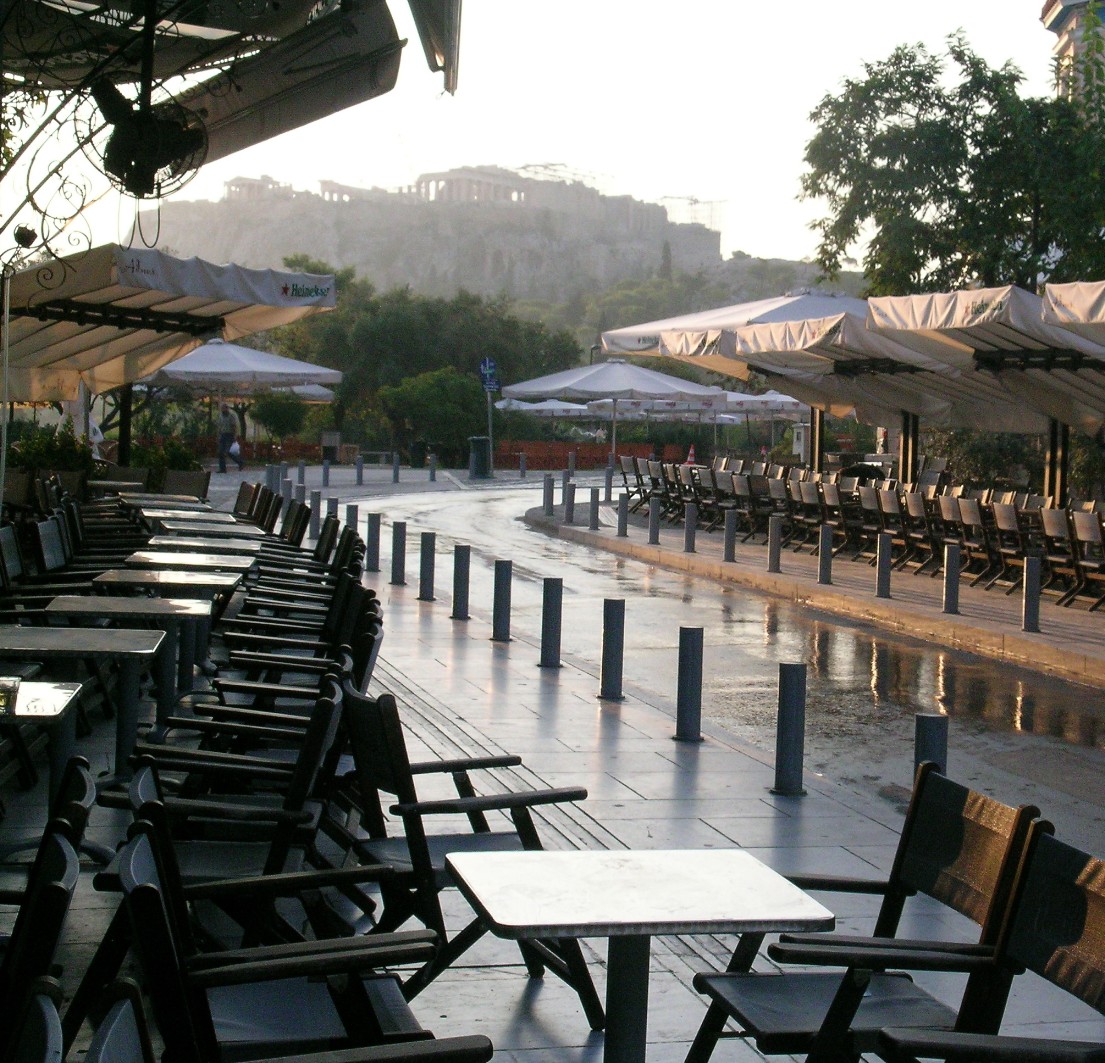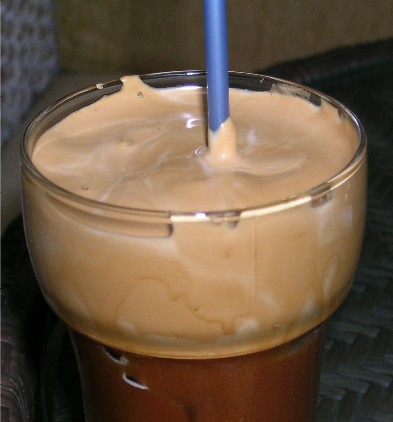 PRESS RELEASE

frappé nation

by Vivian Constantinopoulos and Daniel Young

Publication date: July 2006
American release date; October 18, 2006
192 pages
9 x 8 1/2 inches
More than 250 color photographs
ISBN: 960-6691-01-2
CONTACT: Daniel Young
212-203-1359
info@frappenation.com

Some look at a glass of frappé and see only a mixture of instant coffee, sugar, water, and ice. Authors Vivian Constantinopoulos and Daniel Young take a close look at the same glass and see a symbol of idyllic summers in Greece.

"The frappé," they write, "is not merely a morning pick-me-up, an afternoon break, or a wet, cold answer to the dry, hot summer. The distinctive iced coffee lifts moods, stimulates conversation, announces your connection to a lifestyle unique to Greece, and connects you to it when you're away. Frappé is nothing less than a modern Greek elixir."

In Frappé Nation, released this summer by Potamos Books in a single Greek-English edition, Constantinopoulos and Young investigate the bond between modern Greeks and their national drink. This special relationship, they argue, is rooted in an ancestral thirst for public dialogue and interaction. The chapter titled "The Ancient Art of Greek Conversation" details practices from the ancient agora that take place today in cafés. The authors imagine Pericles being transported from 4th century BC to 21st century AD Athens and, though lacking a cellphone, football knowledge, and other fundamental tools of the café habitué, adapting surprisingly well to latest customs:

"Pericles would notice odd yet reassuring similarities: The discussions. The commentaries. The verbal sparring. With a briefing on current affairs and periodic sips of a long-lasting frappé to stir the dazed time traveler, he would likely reclaim his commanding role in the Athenian conversation."

Subsequent chapters provide intimate views of Greek coffeehouse culture, from the first literary cafés of the 19th century; to the kafeneia, pastry shops, and cafeterias of the 20th century; to the stylish lounge cafés of the 21st century. Frappé Nation also details the history of traditional coffee, instant coffee, the NESCAFE® brand, and the invention and advertising of the caffeinated beverage that is perhaps more Greek than Greek coffee:

"The traditional brew commonly described as 'Greek' originated in the Middle East, is consumed throughout the Near and Middle East, and is widely known as 'Turkish,' as it was in Greece until the 1970s. But frappé, as recognized and adored in Greece, is a Greek-born and primarily Greek phenomenon inseparable from the country's climate, character, and way of life."

Interspersed throughout the text are boxes profiling distinctive coffee houses, with snapshots and anecdotes of the characters who make these places so special.

Some will look at Frappé Nation and see only a book. But anyone who's been a frappé drinker and therefore part of the Greek café experience will instantly recognize an ideal gift for themselves and, better still, for the friends who always make time for coffee.

about the authors

Vivian Constantinopoulos is the commissioning editor at Reaktion Books, a London-based publisher specializing in arts and cultural history. Previously she was an editor at Phaidon Press, where she commissioned illustrated monographs in architecture and design. She has a Masters in literary theory from University College London, and is doing postgraduate research on Greek modernism and urban literature. Born in London of Greek parents from the Peloponnese, she is equally at home sipping Earl Grey tea, Greek coffee, and, from May to October, frappé. She is fluent in Greek.

Daniel Young is a respected food journalist, critic, and author. His most recent book, The Bistros, Brasseries, and Wines Bars of Paris, was a sequel to his first exploration of the café lifestyle, The Paris Café Cookbook. He is currently at work on a book about coffees of the world, to be published by HarperCollins, USA in 2007. He is also author of Made in Marseille and The Rough Guide to New York City Restaurants and has written articles for The New York Times, The Los Angeles Times, Gourmet Magazine, Bon Appetit Magazine, Condé Nast Traveler, and Elle Decor. From 1996-2000 he was restaurant critic of The New York Daily News. He splits his time between London, Paris, and his hometown New York. He takes his espresso short and sketo (plain -- no sugar); his frappés, metrio me gala (medium sweet with milk).

fun facts from frappé nation

GREEK MARKET IN NEW YORK CITY SELLS 500 CANS OF NESCAFE® PER WEEK. Titan Foods, a Greek supermarket in New York's Astoria neighborhood, began importing NESCAFE® Classic from Greece in the early 1990s. By the summer of 2005 they were selling over 500 cans per week.

FRAPPE IS A FRENCH WORD FOR A GREEK INVENTION MADE WITH A SWISS COFFEE FROM THE IVORY COAST. The word frappé is French for "hit", "struck", or, as applied to drinks like champagne and coffee, "iced". The brand NESCAFE® is Swiss, owing its existence and first syllable to Nestlé, Switzerland. The coffee is mostly African, with robusta beans cultivated in the Ivory Coast.

FRAPPE INVENTED IN 1957 AT THESSALONIKI INTERNATIONAL FAIR. At the exhibit for the Greek distributor of Nestlé products, sales representative Dimitrios Vakondios grabbed a shaker meant for a Nestlé cocoa drink, filled it instead with NESCAFE® and cold water, and shook it vigorously. The unexpected burst of foam spilled onto his business suit, a messy mishap that heralded the birth of frappé.

ONE FRAPPE CAN BE AS STRONG AS FOUR ESPRESSOS. A single frappé prepared with two level tablespoons of NESCAFE® Classic (the Greek version), as it is at many cafés in Greece, contains over 400 mg of caffeine, making it as potent as four espresso shots. The recommended dose for a single frappé, however, is two teaspoons, not tablespoons.

SOFA TREND STARTED BY SHAMS AND HAKM. The sofa look that's become so fashionable in lounge-style cafés throughout Greece and Europe was introduced in 1554 by Shams and Hakm, two Syrians who opened their trendsetting coffee house near the port of Constantinople. The student types who lounged in those sofas played both chess and an early version of tavli (backgammon).

CUSTOMERS AT FLOCAFE STAY FOR 93 MINUTES. According to a survey conducted by Flocafe, Greece's largest chain of cafeterias, people sitting down for coffee stick around for on average 93 minutes. The primary reasons respondents cited for choosing a cafeteria were threefold: to be around people like themselves; to be seen or people-watch; and to relax.