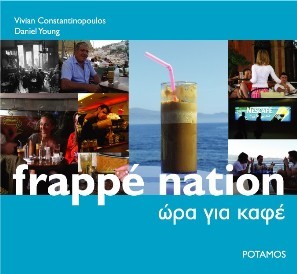 ___________________________________________________________________
_______________________KATHIMERINI English Edition_____________________

Greek fuel: Frappé unpacked

Vivian Constantinopoulos and Daniel Young explore
the charms and aficionados of instant iced coffee

by ELIS KISS
You thought it was ouzo, but Greece's national drink as it turns out is not the world-known anise-flavored aperitif, but a combination of instant coffee, sugar (optional), water and ice.

Frappé coffee, argue Vivian Constantinopoulos and Daniel Young in "Frappé Nation" ("Ora gia frappé," Potamos Editions), "is nothing less than a modern Greek elixir."

An enjoyable Greek/English read, the book narrates how the coffee drink quenches the country's thirst for communication and interaction, while its authors imagine how Pericles would appreciate it in developing stimulating conversation - minus the cell phone.

Frappé becomes today's democratic beverage: It goes beyond age and social status to be enjoyed by all, whether lounging on a designer chair or the all-time classic kafeneio seat. You can buy it pre-fabricated at the local periptero or you can have it served in a sexy glass.

"Frappé isn't only coffee, it's fuel. People are running themselves on it," says food specialist Diane Kochilas in the book.

Some fuel. A survey conducted by the local Flocafe cafeteria chain concluded that the average time for coffee consumption in this country is 93 minutes.

Born in London to Greek parents from the Peloponnese, Constantinopoulos is the commissioning editor at Reaktion Books, the London-based publishers specializing in arts and cultural history. Previously she was an editor at Phaidon Press.

A food journalist, critic and author, Young spends most of his time commuting between London, Paris and his native New York. Author of "The Bistros, Brasseries and Wine Bars of Paris," "The Paris Cafe Cookbook" and "The Rough Guide to New York City Restaurants," he contributes to The New York Times, The Los Angeles Times, Gourmet Magazine and Bon Appetit Magazine, among others.

For their frothy coffee endeavor, the authors talked to hundreds of frappé fans, ranging from cafe owners to journalists and artists and consulted a number of experts in the fields of Classical Greek, Modern Greek studies, mass media, sociology and food scientists.

What did they come up with? Among other things, that frappé made its first appearance in public at the Thessaloniki International Fair, when a Nestle sales representative picked up a shaker and replaced cocoa with coffee during a product demonstration. That one frappé equals four espressos - when prepared with two level tablespoons.

In this lively edition, the authors examine the various facets of coffee consumption, discussing the history of Greek cafe culture beginning in the 19th century, the history of coffee in this country, the development of the instant version, how coffee travels, how it becomes a symbol of home away from home for the diaspora and how a no-fuss frappé survives against the Freddocinos of this world. There are portraits of landmark coffeehouses around Greece and dreamy spots for the perfect frappé: from the conviviality of Kafandaris, established in 1922 in Thessaloniki, to the romance of Veranda, situated in Myconos's Little Venice.

More than a book on coffee and its lovers, "Frappé Nation" captures the modern Greek lifestyle spirit.